November 2008
THE SHIPMENT OF AID FOR SREBRENICA HAS ARRIVED BOSNIA.
Finally, the truckload of aid has arrived Bosnia. It has for sure been a long and difficult process,
- and it is still not yet over. We are still waiting for the final approval to get it in duty-free.
It seems like the bureaucracy in Bosnia is moving slowly through narrow corridors and many offices.
But the Finnish missionary, Antti Tepponen, strongly believe that we will succeed.
This is still a case for prayers.
During our visit to Bosnia this time we were also able to visit Srebrenica, - the final destination for
our aid-shipment. In order to reach the most needy people, we will cooperate with the local municipality
office. In the villages in the mountains around Srebrenica, the need is hard to describe, and the need
for help is great. We also got time to visit the graveyard where most of the 8300 victims of the massacre
are buried. Still there are many not yet found. Among all thenames I also saw the name of a 13 years old boy.
Many like him became a victim for the ethnic cleansing…..
They are gone, but the widows and the new generation need our help right now.
I like to say a great thank you to all that have made this shipment possible.
A special thanks to Brit Helene Stene, and all her helpers. As we now start on the final leg of this project,
-the distribution-, we are in deep need of financial support for transport and other cost-related actions.
| | |
| --- | --- |
| | |
Oktober 2008
Great Opening of the
New Ministry in Durdenovac.
Sunday, Oct. 19th will for ever stand as a red-letter day for the city of Durdenovac on the Slavonien
plains here in Croatia. This was the day when the new ministry-center, Christian Fellowship opened
its door to the people.
After weeks of intensive work redecorating the building, hand out invitations, put up posters and making
announcements through the local radio, the day was finally here.
The excitement was great: How many will come?
We had prepared chairs for 110 people, - and the room was overcrowded. Morethen 120 people came.
So, many had to stand. The choir from The Evangelical Pentecostal Church in Osijek pleased us with
their joyful songs, and Rector, dr.sc. Peter Kuzmic from the Theological Faculty, Osijek "captured"
us with his fantastic message. Even though many came from churches in the district around Durdenovac
to take part in the opening of the center, many local people came as well.
Their feedback was not to be mistaken, - They wished us and the new Christian Fellowship welcome
to Durdenovac. The ministry has already started with Bible-study and prayer on Friday nights,
and Gospel-meetings on Sunday nights. New people are coming in every week, and some have already
received the Lord. There are also strong testimonies from people having received healing.
Stay with us in prayer as we understand God has a special plan for Durdenovac!
God will give Durdenovac future and hope!
September 2007
New Teaching
The Will of Him Who Sent Me.
September 2007
Back "home" in Croatia.
With thanks to God we arrived safely back "home" in Orahovica, Croatia Saturday afternoon Sept. 8th.
It is a long journey all the way from Kvinesdal in Norway, -through Denmark, Germany, Austria and Slovenia
before crossing the border to Croatia. All-together 2300 km.
We are always a little anxious as we cross the border to Croatia as we have our car fully loaded with
cloths and shoes to needy people. But also this time we met friendliness from the custom-officer,
and he sent us off without making any problem.
Our house and garden in Orahovica had been taken well care of by dear friends in the church. Thanks to all.
Already on the first Sunday we shared the Gospel in the Church here. It was good to meet all the friends again.
We have now started planning our schedule for visiting churches in Croatia, Hungary, Bosnia and Serbia this fall.
Pray for us that God will give strength and wisdom.
Edith and Oeystein.

September 2007
Report and Greetings from Manna Ministries, Kenya.
Dearest Dr Oeystein and Edith Sandtorv,

Thank you for the many blessings, glorious and historic Mission we had in
Nairobi and Kisumu. We had a great impact.

The anointing you imparted in the lives of people will last forever. The
book of John 10:11 talks about a good shepherd laying his life down for the
sheep. You are a good shepherd. We shall follow your footsteps as you
follow Christ.

It is significant to all what God has done through you. Your love is
genuine, may God bless you more and more of himself

We were privileged and humbled to host you in our Nation. You are
wonderful and the grace of God is upon both of you. Your love to us was
evident and portrays the zeal you have for God's work.

You left a new picture in the minds of people of Kenya. It is
unbelievable that right now Manna Ministries has USD $ 100 towards their
building and plot purchasing project .The Widows blankets you helped
purchase and distribute, left a mark in the Villages, we have began to
receive new people in our Programme through that and it has remained a song
in the Village. It is something that has never happened before.

God bless you and your family. Give our love to every body as we look
forward to seeing you again soon. We pray that right now you have arrived
safely in Croatia and will soon be in touch with us.

We also pray and look forward to seeing you soon back in kenya for a
larger conference that everyone who tasted what God has put in you wants
more of.

We will appreciate your prayers.
God bless you abundantly.
In Jesus love

Maurice and Benter Odhiambo
Manna Ministries Kenya

August 2007
Impressions from our trip to Kenya..
Read all about it here
| | |
| --- | --- |
| | |
| Ready for Kenya. | Lederen for senteret, Beatrice Otira, orienterte oss om arbeidet. |
January 2007
Two Weeks of Teaching at the Seminary in Osijek.
It turned out to become two busy weeks teaching basic Christian Pedagogy to 20 students
at the Evangelical Theological Seminary in Osijek. The teaching is built up in modules each
of 3 study-points during the 2 weeks, -so the days become quite hectic.
Beside this the students will have to read 300 pages, have an exam and write an assignment
of 6-8 pages in connection to Christian pedagogy.
The students come from several countries on Balkan, and the teaching is held in English.
These are students that later will be teaching Christianity in public schools as well as in Churches
in their respective countries. In Croatia it is the local churches that takes care of the religious
education for their children in the public school, but the teachers must have an official approved
education, -and that is what my good co-workers and I are responsible for at the Pedagogical Institute
in the Seminary.
The pictures shows the new Faculty building next to the Evangelical Pentecostal Church in Osijec,
and Oeystein together with his students at the entrance to the Seminary.
| | |
| --- | --- |
| | |
December 2006
Odsak in Bosnia.
Odzak is a small town in the northern part of Bosnia. From the border-city, Slavonski Brod,
it takes around one hour to reach. A small house-church has been established in the town,
and the church in Slavonski Brod visits them regularly with meeting in the local cinema-hall.
Thursday Dec. 7th Edith and I again took part in the meeting sharing the Gospel.
We were able to share The Good News in a simple way, - and invite to salvation in Jesus Christ.
When we gave the invitation, 10 people came forward for prayer.
The youngest, a young man around 18-20 years old, and the oldest, a man I his fifties.
After leading them in a prayer for salvation, we prayed for Gods blessing on each of them.
It was a fantastic and strong experience.
After the meeting, the leader of the house-church and his wife, invited all the new believers home
for a meal in their apartment. In this way they were right away taken care of and led into
the fellowship and love of God.


November 2006
New Semester at The Faculty in Osijek.

The new students are all set and the engagement is high at the Faculty inOsijek.
The Faculties new and splendid building that was inaugurated last spring, is a great potential
for all the students. Around 40 students takes studies at The Institute for
Pedagogy, led by Oeystein.
Below you will find some pictures from the opening of the semester.
Our Dean, Dr Birvic welcomes
the new students.

Some of our students gathered in "The Red Room", one of our
auditoriums.

Welcome-party at the faculties
dining hall.

November 2006
Our New Engagement in Africa.
Read more


July.2006
Dramatic for Oystein as his heart stopped.
Tuesday 27.June, Oystein was brought to the hospital in Virovitica to be treated with electroshock
due to heart-flutter. But as he got the electroshock (50Joul), his heart stopped, and the situation turned
dramatically. In order to get him back to life, the doctor turned the power to 100 J, and gave hin two shocks,
- one after the other, with no result. Then he turned the power to 200 J, and gave him a third schock,
and life came back.
Five days later, Sunday 5.July. Oystein again preached the Gospel in the morning-worship in Orahovica.
"I feel fine, thanks to all that remember me in prayer," he says.
"And I know God has called us here for a reason, - and that time is not yet over".
June.2006
| | |
| --- | --- |
| | The Croatian version of Oystein Gospel-tract. |


June.2006
Oysteins Gospel-tract, "The meaning of Life", printed in Kenya.
Oysteins Gospel-tract, "The meaning of Life" has already been translated and printed in Croatia.
A reprint will be done as soon as the financial situation allowes it.
It has also been translated to Serbian and Macedonian, and again- when the financial situation
allowes it, it will be printed in both languages.
Latest news is that the tract has been translated even to Swahili, and printed in 30.000 copies in Kenya
in cooperation with the national organisation "Manna Ministry". Thousands have been distributed already,
and we believe God for a great harvest.
Pray for the printing of the tract for Serbia and Macedonia.

June.2006
Financial aid from Norway helpes families in Croatia.
Two families, - one, a sigle mother with two children in desperate need,
and one single father with 3 children that returned from Serbia after
years as a refugee, gets help from The Pentecostal Foreign Mission in Norway.
In the shack to the left the father and his 3 children has lived for three years without ligth and water.
Their Kitchen has been a wooden stove outside the shack.
Their new home we will help them furnish.
This single mother and her two children will get help from the fund.
Her son was not present when the picture was taken.


June.2006
New ministry opened in Durdenovac.
Durdenovac is a small city 15 min drive from Orahovica.
Once a prosperous city, but due to the war, the industry collapsed.
Today the people and the city is in great need. There is no Evangelical church in the city.
We recently had our first meeting in a private home, and even it was a planning-meeting,
one single father with his two small girls came.
We will get back with more information as the ministry in Durdenovac developes.
| | |
| --- | --- |
| | |
| Our first meeting in Durdenovac. | This single father came to our first meeting together with histwo children. |
June.2006
Successful Gospel-meeting in Slatina.
Our very first Gospel-meeting outside our little church-room in Slatina turned out to be a great success.
Before the meeting, Oystein and our Macedonian evangelist, Dragan, was received by the Major of the City.
He gave us to use the public hall free of charge for the meeting,
- and even welcomed us back at a later occation.
Around 80 people came, and as Oystein gave the invitation to receive Jesus Christ as Saviour and Lord,
12 people lifted their hands. We plan to have several new meeting in Slatina as well as other parts of
Croatia this fall.
Oystein received by
the Major of Slatina.

Pastor Slobodan Stojkovic
welcomes the congregation.

Part of the congregation.

March.2006
New Teaching ; IS THERE A MEANING TO LIFE

March.2006
More than hundred people attended Gospel-meeting in Slavonski Brod.
Read more

March.2006
WE HEARED THE "MACEDONIA CRY".
Read more

Feb.2006
New teaching ; Lifes most important question.

Feb.2006
Fantastic weekend for the Church i the village of Severin, Croatia.
Edith and I had just got our luggage and aid-items out of our car after returning from Norway when we
together with around 30 members of the Church headed for the small village of Severin for a Church-weekend.
The village is not far from the city of Rijeka. It turned out to become three fantastic days full of blessing.
On the last day, Sunday, we joined the local Baptist Church for morning worship. The church was packed to capasity.
A local pub-owner saw all the people that flocked in to the Church, and became curious about what was going on,
so he closed his pub and came as well. After the service he was all exited.
He had never experienced anything like it before, - and added: " I really enjoied the message that
"Viking" from Norway held!" If I should sum up the three days in few words it will be: Joy and excitement,
initiation and prayer, renewal and baptism in the Holy Spirit.
A few pictures from the camp follows this news.
Warm greetings from Oeystein.
Feb.2006
Tripple-pram attrac attention in Croatia.
Positive article in one of Croatias largest newspapers.
The tripple-parents hardly believed their own eyes when they saw the tripple-pram rolled into their poor home
in Orahovica. In addition we could bless them with a lot of baby-clothes and other needed items, like food and dipers.
Here is a short version of what the journalist Dragutin Santosi shared with his readers in the national newspaper
Vecernji List, Friday 27th. Jan.-06.
The family Filipovic are bringing up their four children under poor circumstances.
SPECIAL PRAM FOR THE TRIPPLES BROUGHT FROM DISTANT NORWAY.
The missionaries from The Evangelical Church helps the city and the people.
ORAHOVICA: One hundred days have passed since the family Filipovic, which live in an old apartment of 50 square
meters got Orahovica´s first tripplets, -Marijana, Mateja and Marija.
As the children are growing, their four year old sister Marina, is helping as well.
The humanitarian organisation AGAPE of the Evangelical Church in Orahovica, has since they got home from the hospital,
helped them with food, dipers and other needed items. But nothing exceeds the most beautiful and definitly most
needed gift that came from distant Norway. The missionary couple of the Evangelical Church, Edith and Oeystein Sandtorv
had managed to get them a baby-pram for triplets.
Lidija Stojkovic, local leader for AGAPE in Orahovica, telles us that when they heard about the difficult circumstances for the
Filipovic family, we asked the Sandtorvs for help. That resulted in dipers, baby-food and other needed items, - and now,
this most beautiful tripple-pram. Lidija Stojkovic tells us also that the Sandtorvs have brought 40 truckloads of aid into the
warzone of former Yugoslavia all since 1992.
"We have now come to live among the people that we through the years have learned to love", Sandtorv tells us.
"The Filipovic family live under difficult circumstances, and they need our help. I am happy to notice that the local
people are supporting and helping as well. We can not help everybody, but we can help some. We hope that by this
we can show that if we all do a little, the world will be a better place to live", concludes Oeystein Sandtorv.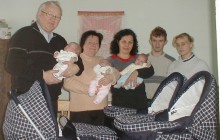 Jan.2006
BACK TO CROATIA.
Sunday 15th Edith and Oeystein will be returning til Croatia in order to continue their ministry.
During their Christmas-vacation with their family in Norway they have visited ceveral Churches
for meetings and sharing news from the ministry. At the same time Oeystein has been through
ceveral medical tests due to his heartproblem. His situation is stable and good,
but he will have to take care. As they leave on Sunday their car will be filled up with lots of
needed items for people in need.
Des.2005
Sunday 11.Dec. Edith and Oeystein will start their long journey (2500km) from Croatia to Norway
where they will celebrate Christmas together with their family.
While in Norway they will also visit several Churches and prayergroups that are sponsoring them.
Already 14.Jan. they will again fill up their car with cloths, shoes and other needed items for
people in need, and return to their ministry in Croatia.
Pray for a their safe journey.

Nov. 2005
Our new home in Croatia.Read More

Oeystein appointed Director at The Institute for Christian Pedagogy and Culture at
The Evangelical Theological Seminary (ETS) in Osijek.Read More

Sept. 2005
News from Edith and Oeystein.
Finally, -after one month with lots of work, we have moved in to our new home in Croatia.
Read More

Oct. 2005
We have now reached Croatcia, and had a nice trip without problems.
We have already started on our tasks, and have got ourselves a nice place to live.
Though it may need some fixing before we move in, we hope to get it ready midth september.
Here is our meeting-schedule for August:
Sunday 28.Aug. 10 AM: The Bethany Church, Orahovica, Croatia.
Thurday 25. and Friday 26. Fishach, South Germany.
Sunday 21.Aug. 5 PM: The Christian Fellowship Church, Lyngdal.
Sunday 14.Aug. 7 PM: The Philadelphia Church, Vaagsbygd, Kristiansand.
10.07. 2005:
New car for the ministry. Read more...
05.06. 2005:
Edith & Oeystein were consecrated by the leadership-team and pastor in «Kirken i Dalen», Norway,
for their new ministry in Croatia and on Balkan. Read more..